Have you ever wondered, what can I do with my old car Tires? Well, it's very easy and today we are going to talk about simple ways you can transform used tires from Old to Gold.
All you need for the above activity is just old tires and you will do it yourself (DIY)-"Do it yourself" is the method of building, modifying, or repairing things by themself without the direct aid of experts or professionals.
I understand not everyone has access to old tires. First, I will guide you to identify areas you can easily get the tires either free or at a car yard. Here are some places you can easily get old tires from:
Tire retail stores (for a fee)
Auto shops.
Local general and specialized tire recycling facilities.
Dumps that accept used tires
After acquiring your tires, you will have to decide on what to make. I will show you several methods that you use to transform old tires into beauty
The good news is that rubber tires can be reused in many ways: Recycled as retreaded tires and used again on vehicles. Made into rubber bumpers for boats and children's play equipment. Old tires get a new life in a playground. Converted for computer mouse mats, pencil cases, and notebook covers.
Below are some of the ways we are going to discuss and explain "HOW TO RE-USE TIRES AT HOME"(DIY).
Backyard farms
Flower vase
Newspaper and magazine shelves
House decoration
Children playfields.
Car park marker
However today we shall talk about two uses:
How to make a flower vase from old tires
How to make a garden from old tires
Flower vase
A vase is an open container. It can be made from a different material. Over the years human beings have always loved the beauty of flowers. Most homes according to the latest research show that 80% of people love flowers.
Well did you know that tires can be used in place of a vase? I will take you through the steps of making a very beautiful flower vase using old tires.
REQUIREMENTS:
For you to carry out the task you will need the following:
Paints (color of your choice)
Brush
Gloves
Old tire one or more
Planting soil
Flowers of choice
Working space
PROCEDURE:
Wash the tire and dry it
Paint gently using your favorite colors until the paint is even.
Place the tires on the ground and fill them up with soil. (It recommended to use at least four to eight tires)
Plant your flower and water them.-Remember you can arrange the tires in stairs to form beautiful patterns.
Done. Congratulations you just did your first DIY-projekt with old tires.
Backyard farms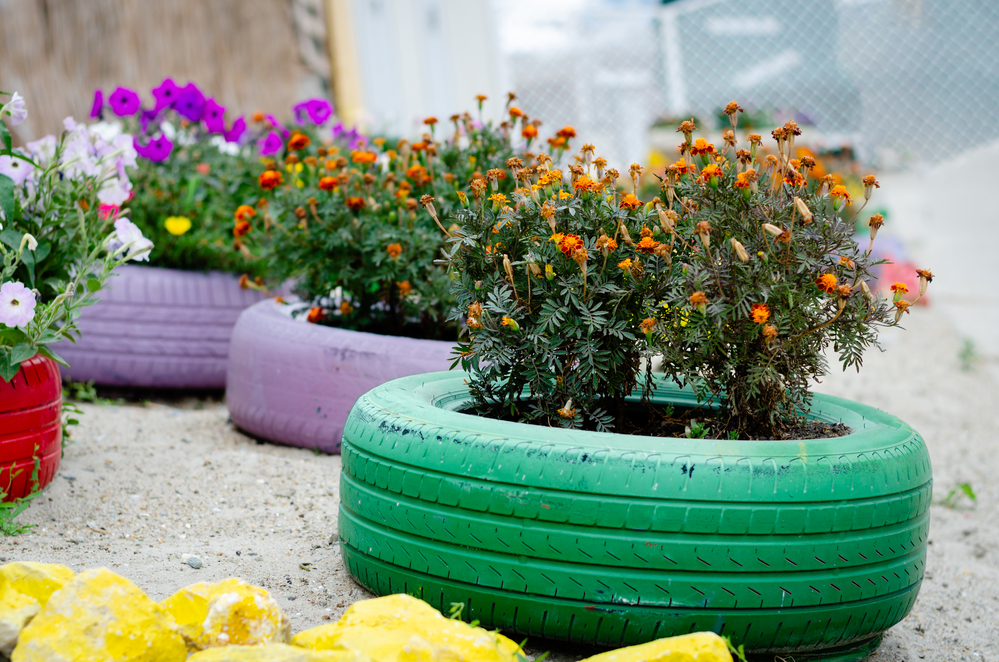 What if you could grow a beautiful, productive garden in a pile of rubbish? Well, you can – and participate in the green environment at the same time!
I'm a little exaggerating, of course. You can't plant a garden in a pile of rubbish. But you can plant a garden inside something that is considered unhealthy – an old tire.
The tire is a great way to reuse old rubber tires to increase your yield and reduce the amount of work you do to produce a successful garden.
It's easy to start your tire garden – if you pay attention to a few tips and warning pieces.
How do I start my vegetable farm?
Find old uncut tires – Explore local service stations, farms, and other sites. You should never pay for tires because people are always trying to get rid of them. You will then want to cut the inner edge without the wheel with a saw. This will give you more space to plant without the extra "lips" you could argue with.
Get good soil – Keep your tire in a sunny place. Fill it with fertile, fertile soil and a little compost. It will take a lot of soil to fill your tire, so you will have to plan this. You can clean the soil if you like. To do this, place a layer of plastic on top of the soil and leave it there for a few weeks (I usually do this during the late fall in the early spring). Plastic can stay in the ground if you would like after planting, as it can be used to create a small amount of sunlight.
Plant and get ready to harvest– Congratulations you just planted your first farm on tires. Remember watering your crops and adding fertilize is an easy job to do.
Is it safe?
Well, people have always argued that planting crops on tires is harmful. However, that's not true it a way of saving space especially for those at urban center's.
Great job now you know how to plant tires in the backyard of your house.
Conclusion:
Recycling tires is something that you can do at home by yourself. Instead of pilling up tires at your house you can re-use them and make very many awesome things.
As a result of increased automotive production, more and more waste products are being created and their construction, especially life-threatening tires, are harmful to the environment when not properly disposed of. Their composition contains polluting chemicals, which lead to adverse effects on the environment.
This study aims to introduce a process that favors the reuse of rubber waste from dead tires. In creating the state of the art and the state of the industry, the revision of end-of-life rubber texts, and searches on Google Patents and Espacenet were done using the Methodi Ordinatio.
For the experimental work, samples were made using concentrations of 20%, 40%, and 60% end-of-life rubber particles, with the inclusion of a thermoset polymeric matrix of isophthalic polyester resin, catalyst, and dyes. To test the quality of the composite, further tests were performed with materials from the compound: Izod strength, Shore D strength, human density immersion, flexural strength, and scanning electron microscopy analysis.
The results from the experiments show that formulations with 60% rubber particles had better mechanical results than samples containing 20% ​​and 40%. Experiments also show that life-end particles promote the release of chemicals (interactions) with the thermoset polymer matrix, which recommends mechanical properties. The final findings of this study are: a review of the literature and a copyright search granted that this study is the first of its kind; the experimental work suggests that active use is possible, to create a new, hard product with a 60% rubber particle size, as shown in the experiments, with a smooth surface that does not need polishing. Therefore, this study appears to be relatively new and has consistent symptoms.
Now you know.
References:
https://nerc.org/news-and-updates/blog/nerc-blog/2015/11/20/five-amazing-uses-for-recycled-tires
https://www.growlikegrandad.co.uk/allotment/safe-grow-food-inside-tyres.html
https://www.researchgate.net/publication/337821294_Proposal_to_Reuse_Rubber_Waste_from_End-Of-Life_Tires_Using_Thermosetting_Resin